Kinki Nippon Railway opened to the public right above Kintetsu Kyoto Station on the 29th and "Hotel Kintetsu Kyoto Station" that opened a business on October 1 was opened to the public to reporters.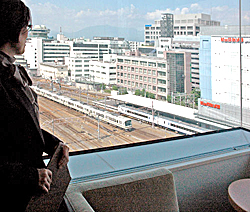 It faces the railway track of Kintetsu and JR, and when it can enjoy "Train view" that looks at the train with 368 all rooms, it is Iu.
The total floor area 13,500 square meters every eight stories on the ground. It is possible to go before tickets is examined when going out of the first floor lobby there is the fourth line at Kintetsu Kyoto Station in the second floor part, and with the reception desk and taking an escalator. There are six modality guest room such as wide twin of twin of the breadth 16 square meters (236 rooms), double (46 rooms), and 21 square meters (63 rooms).
One person decides because of 15,000 yen and the basis room fee of one night stay is decided that two people because of 19,000 yen.
Woman's Mayumi Uruchi (Ume brat) (51) was appointed to the general manager for the first time at the hotel of Kintetsu-affiliated. Mr. Uruchi is "Other people to say nothing of the railway fan should be able also to get it with palpitations" and a Pulmonary regurgitation lingua ..the guide of the guest room where the railway track is wanted...
- Guest room at hotel Kintetsu Kyoto Station. Http://www.yomiuri.co.jp/photo/20110929-494824-1-L.jpg that can enjoy view of Kintetsu and JR
- Hotel Kintetsu Kyoto Station http://www.miyakohotels.ne.jp/kyoto-station/
Japan is good country!
http://japan-power.net/
PLEASE come here!